this is my start to now build thread. i will update it as i go through. lots o pics and info. pretty detailed. lots of reading.... if you dont like it then get out of my damn build thread. i dont care if ya dont like it. comments welcome

i bought an ugly 89 single cam coupe on may 28 2011. it is a make this shitty ass car a little bit less shitty by wasting lots of money on this turd. so it all starts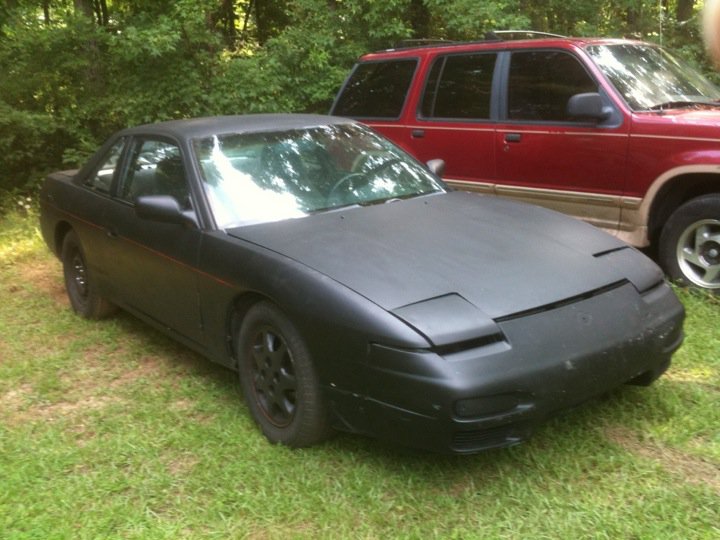 it came with a welded diff, some gay lowering springs, jdm tail lights (lol blacked out), 4 se;s and 2 steelies with no tires on them.
first couple things i did were,
replace wheel studs that were broken, right front hub
stock tail lights
megan track coilovers
no name bucket seat
new sharknose bumper, trunk
rattlecanned it krylon navy blue (horribly)
put some xxr 521 16x8 on
drift knob and shift knob
f&r strut tower bars, c pillar bar, lower tie bar
no name deepdish steering wheel and hub
roof spoiler
volvo front lip for the sharknose
new front windshield

first event i ran in at cordele... no pics

but had fun!
got my xxr 526 17x10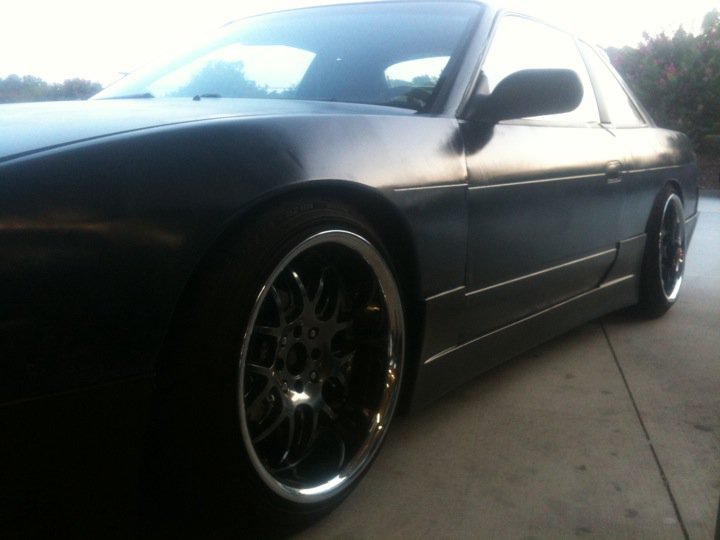 put e fans on
bought some d spares plus more tires
first exhaust was a dual canister design that did not fit at all, so took it to a shop and got it customized to fit and changed the fart cans to some blast pipes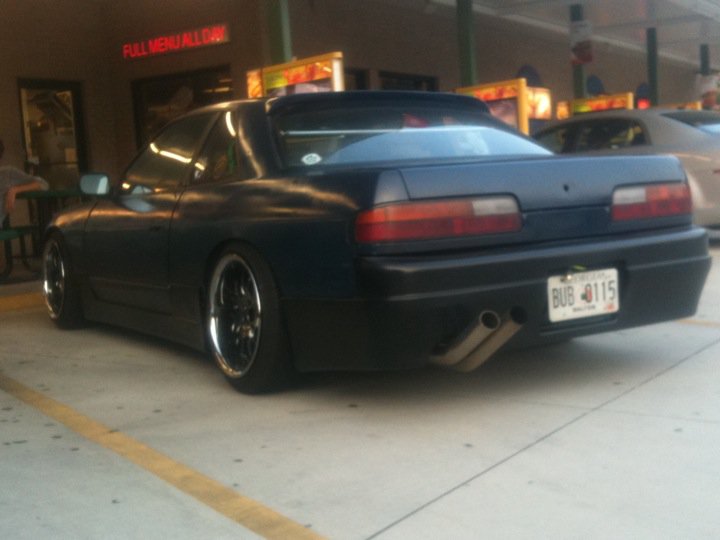 toe rods/ rear upper control arms/ traction rods/ tension rods/ subframe collars
supermade kit
then i wrecked it

street sliding is dumb when you get to close to curbs
broke the drivers rear up right, right where it connects to the lower control arm
ended up having to replace the lower control arm, spindle, cv axle, bent my coilover, brake hose, exhaust, and it destroyed my brand new not painted yet kit. luckily i had d spares on so no new wheel damage. and it cost me 140 to get it out of the damn impound lot.
damage....




then...
more wheel studs to be replaced and got a battery tie down for the next cordele event.
went and got a new cat back, same style (xs power dual canister design)

went to cordele and ran at the event. on the way down there my exhaust started scraping and broke a hanger, from there i tied it up... fell off... tied up... fell off... drove with it on the ground for about 30 miles. pull onto the exit for our hotel. pull into a gas station and it falls off. i thought it was the end for that exhaust. but nope i revived it!

the resonator was destroyed and so was the first flange. so i took my old destroyed cat back and mixed em together to make one kinda working one with no resonator. just two canisters. had a lot of fun down there! bent a tie rod though. but made it home.

new tires again for my xxrs this time got some 235/40s instead of 215/45 for the front/
bought a wangan spoiler then sold it in 2 days. haha


welded on a jdm gangster tyte ka24de rod to my ebrake. legit shit
then now 225/45 for the rear
got extended studs for the front that didnt fit (for s14 front im pretty sure)
new tie rod inner and outer ( didnt replace till it was too late)
got some used kei office rear coilovers (put my 10k springs on)

new plug wires for the single slammer
then going over a speedbump sideways i broke the bent tie rod. replaced it then.. luckily i had the part in my car
motor swap time! no more single slammer
97 ka24de 120xxx miles
f1 racing lightweight flywheel
isis high pressure power steering line
traded front megans for isis coilovers
ordered new spray paint to redo car ( havent sprayed it yet)
just got 225/45s all the way around
near future plans
-silvia front
-drift
if you made it to the end i give ya props. lol

more stuff to come! hold on tight for updates